Cycleway tactile paving

Tactile segregation marking of bikeways (cycleway tactile paving) type ME-20-TSB with rounded studs Ø25 mm

Standard:  In accordance with German norm DIN 32984 and Czech norm 398/2009 Sb.
Dimensions:  900 x 303 mm
Material:  Made of elastomer (belt) and two-component cold plastic (studs).
Colour:  Various colour combinations (see below).
Application:  Used as surface mounted tactile segregation of shared cycle tracks and footpaths – to segregate pedestrians and cyclist on cycle tracks. The dividing strip prevents the visually impaired persons from unintentionally getting onto the bike path. To be placed over the existing paving, which makes the installation simple, quick and cost effective (it eliminates excavation and the bikeway / footpath can be re-opened within a few hours).
Installation:  Suitable for the application on matured bitumen and concrete surfaces. Installation by gluing using two-component cold plastic (methacrylate resin).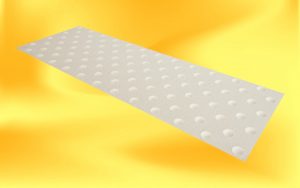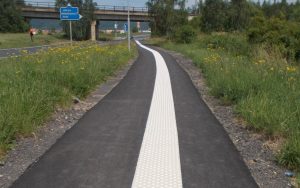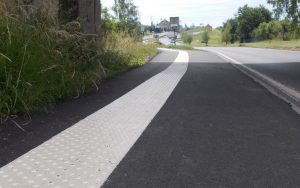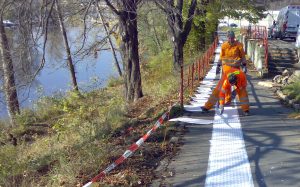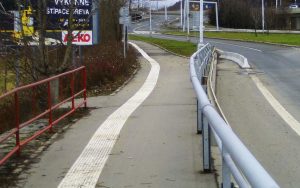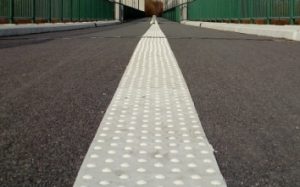 Available colour combinations with order numbers:
ME-20-TSB-300-01   Tactile paving 900×303 mm white/white studs
ME-20-TSB-300-02   Tactile paving 900×303 mm white/black studs
ME-20-TSB-300-03   Tactile paving 900×303 mm white/yellow studs
ME-20-TSB-300-04   Tactile paving 900×303 mm white/grey studs